A Qualitative Inquiry on Pregnant and
Postpartum Women's Responses
to the COVID-19 Pandemic
 July 14th, 2020
Presenter: Dr. Hamideh is an Assistant Professor in Midwifery Program, Department of Family Practice, an associate member in the School of Population and Public Health and a faculty member in Reproductive and Developmental Sciences program at UBC. Dr. Bayrampour's research interests are in the areas of maternal mental health and substance use and pregnancy outcomes.
Objectives of the webinar:
– To learn about pregnant and postpartum women's experiences and responses to the COVID-19 pandemic
– To identify ways in which healthcare providers can support pregnant and postpartum population during the pandemic
– To discuss the implications of these findings for practice

SACPAN 2020
 February 29th, 2020
Carolina Judkowicz and Alexandra Gillis presented at the South Asian Conference for the Pacific Northwest (SACPAN) 2020 at SFU Harbour Centre. Their presentation highlighted the study led by Dr. Farah Shroff, titled the "Feasibility of integrating Ayurveda to reduce maternal morbidity and mortality in India: a qualitative descriptive inquiry."

MSAC Talk
 February 11th, 2020
Dr. Shroff spoke to medical students at the UBC Medical Student & Alumni Centre (MSAC) to mark Feb 12th and highlight MIHCan's recent work. As of 2016, the former mayor of Vancouver Gregor Robertson established that every February 12th is Sexual and Reproductive Health Awareness Day.

Dream It, Be It: Career Support for Girls Conference
 November 16th, 2019
Dr. Shroff and Alexandra Gillis went to École Panorama Ridge Secondary to lead the Dream Beam Boost Esteem workshop for the Dream It, Be It Girls Conference 2019. The workshop was aimed at helping young self-identifying girls from high schools around the city to take charge of their future.The workshop was followed by stimulating discussions among peers and facilitators. After all, our level of self-esteem and self confidence is often based upon our beliefs about ourselves.This workshop provides an opportunity for girls to achieve the self-esteem and self-confidence they want. Our nonjudgmental, non-directive questioning process can help you uncover self-limiting and self-defeating beliefs you hold about yourself.MIH Can took part in this conference not only to help boost esteem in young girls but to introduce them to the importance of getting involved in nonprofit and volunteer work for the benefit of their academic futures and the future of the world. 
Fanning the Flames: the ZXX Study and Maternal Infant Health Canada's Research
 November 7th, 2019
Dr. Shroff spoke alongside Carolina Judkowicz and Alexandra Gillis about MIHCan's education, research, and outreach at the UBC Center for for India and South Asia Research. Will the re-emergence of traditional health knowledge in India, in the form of the AYUSH Ministry and otherwise, improve the health of women and children? Maternal and Infant Health Canada is currently studying this question with our partners in India and we presented our ideas in progress. Want to hear life stories of Parsi women? The ZXX project is an oral herstory study conducted by and for the Parsi community. We discussed the project, its Canadian and Indian participants, as well as the importance of maintaining bridges between Canada and the Global South. 

Sparking Better Health: The Research of MIH Can
 October 7th, 2019
MIH Can invited community members, UBC students, and UBC faculty to open a dialogue and begin exploring topics like gender-based health inequalities and different cultural expectations of the role of motherhood. This event created a much-needed space to learn about women's health through both a global and feminist lens, allowing participants to not only learn as individuals, but as a group. Here, we were able to have mini-debates, watch a MIH Can movie, and listen to Dr. Emilie Salomons' wonderful presentation. Ultimately, we grew our network while refreshing our enthusiasm for a healthier and more egalitarian world.
Mother's Day Talk & Tea: A Discussion on Global Maternal and Reproductive Health
May 15, 2019
Reproductive and maternal health is central to gender equality and development goals of UBC's community wellbeing. A conversation led by Dr Farah M Shroff of Maternal and Infant Health Canada will broaden our discussion on women and children's health locally and globally.
 Dr. Farah M Shroff has been a women's health researcher and educator for many years, focusing on midwifery, HIV, sexuality, nursing, mental well-being, and palliative care. She works in the Department of Family Practice and the School of Population and Public Health of UBC and has a longstanding commitment to improving public health and community development within a social justice framework. She is the founder of Maternal and Infant Health Canada, a collaborative that strives for better health for women and children through education, research and innovation focusing on green integrative health promotion systems including yoga and Ayurveda.
The event is jointly organized by University Neighbourhoods Association and UBC Wellbeing with the support of 2019 UBC Women Deliver Grants.
Getting to Health Here & Abroad – A Panel Discussion
November 5, 2018
We would like to give thanks to Dr Duncan Etches, family physician who has worked in many countries in the area of maternal health, and Dr Hamideh Bahrampour, midwife who researches maternal mental health for giving a great presentation for this event! We had a lot of people come and were very interested in the talk. It was wonderful to here about Dr. Etches experience all over the world and Dr. Bahrampour's wonderful research!
Bim's Night Out
November 17, 2018
Thank you all who came out to our Bim's Night! We had such a good time and really appreciate your support for our cause. We look forward to seeing you all at MIHCan's future events!
November 27th, 2017
A big thank you to Burnaby Central's Business Club who has generously decided to donate half of their profits to MIH Can this year! They are a student based organization that is committed to providing hands on experience to students interested in the business field. Their goal is to allow everyone to take on a leadership role, and participate in a an environment that enables them to earn money and learn more about the business world while having fun.
November 1st, 2017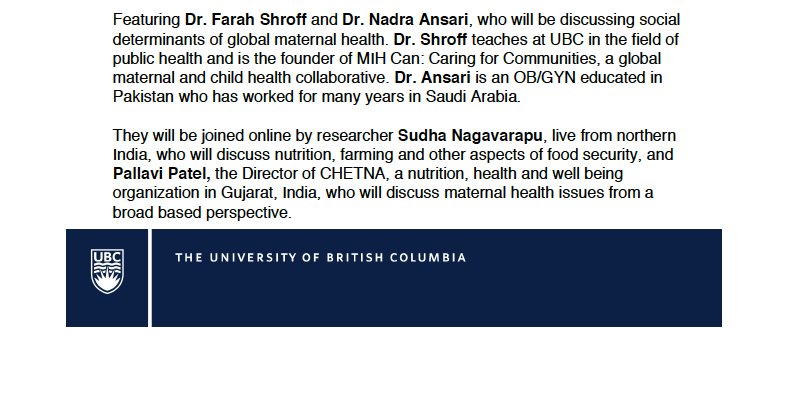 Here is Pallavi Pattel from our partner organization CHETNA, speaking on maternal health:
Here is Sudha Nagavarapu speaking about food security issues in India: 
February 12th, 2016
We are happy to announce that thanks to the work of MIH Can, mayor Gregor Robertson, of the City of Vancouver, has proclaimed every February 12th Sexual and Reproductive Health Awareness Day.
Last updated November 29th, 2017